I made the mistake of going to a Mets game on a Sunday. I knew the Mets did not play well on Sunday, and were 0-4 in trying to complete home sweeps—all on Sunday. But how was I to know that when I bought seats online directly from a season ticket holder in the last row of the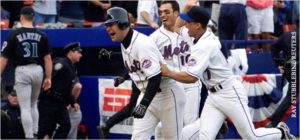 first section at Citi Field behind home plate. My whole family attended a game for the first time since the 2013 All-Star, when our standing room tickets transformed into great seats when the people in front of us left early.
This one got a late start, thanks to a downpour, but the seats had four different clubs to seek refuge in. With two picky eaters gone teenagers, I was not about to waste the $33 all-you can eat ballpark food at the Porsche Club, so we gambled on the Foxwoods Club and waited out the rain until we could order Shake Shack from the waiter service. But I am not there for the food. It's better than anything I ever ate at Shea, but I wonder what's the surcharge to order a second helping of the '86 Mets, please.
Both WOR radio and the New York Times did a fine job of chronicling the Mets' woes on Sunday. The Mets had been 4-0 in games I attended this year this year (all on Friday or Saturday nights), and somehow got great pitching performances each time. I did not get a bad effort from Rafael Montero against Oakland, either. But the Mets lived up to the Sunday billing.
They have actually won twice at home on Sunday (once in April and once in June). Yet they lost this one to Oakland, the closest loss they'd had on a home Sunday all year—the other seven losses had been by an average score of 9-2. This was 3-2, sounding a lot more like the 1973 World Series against the A's than a pedestrian interleague game against a foe whose players' names were almost entirely unfamiliar to me except for Yoenis Cespedes, who wants to go back there for his final year. I hope the final year of Yo's career won't come for a while and if I could go back in time and spend one more year in the house where I grew up, I'd probably wish for it aloud, too.
On Sunday Yoenis gave everyone a jolt—if not a McDonald's-sponsored compression sleeve with his #52 on it—when he skied a high fly to center with a man on in the ninth. The crowd behind me oohed and ahed, but I had a perfect view up the middle of umpire, catcher, pitcher, and center fielder. Jaycob Brugman (I so had to look up the A's CF) never moved and the Mets never quite got off the Sunday schnide.
And if the Mets had gotten three wins in Flushing in 1973, there would have never been that ill-fated flight to Oakland or the George Stone what-if, or facing Catfish Hunter, or Ken Holtzman, or Reggie Jackson stomping on home plate, and the A's celebrating all around the Oakland Coliseum, which is now the fifth-oldest ballpark in baseball, if not the least attractive. The Mets lost their last game at the Oakland Coliseum in 1973—on a Sunday, no less.